Openings
My practice is full at present. Please inquire in June 2024 for possible openings in July 2024.
Getting Started
For more information, please be in touch by leaving a message on my confidential voice mail. I will return your call at the first opportunity and we can briefly discuss any initial questions you might have.
We will then arrange an initial meeting to get a more detailed picture of the distress bringing you to consider therapy, and we will get a sense of whether or not my way of working is a good fit for you.
I have an office in downtown Vancouver. Therapy services will be either in person or online through the Zoom video platform or by phone.
Office Telephone: 604.274.2721
Downtown Vancouver Location
The Vancouver office is located in Fairview at 1055 West Broadway St., Suite #601, just west of Oak St.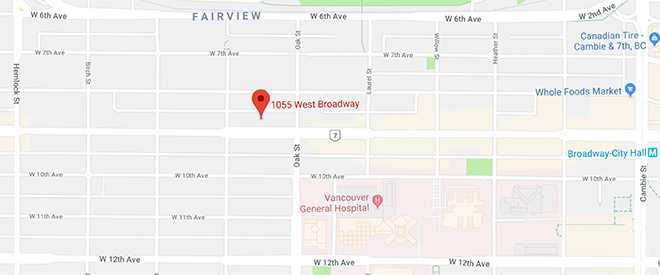 Parking
There is pay parking in the rear of the building on the first underground level with direct access to the elevators. There is also indoor pay parking in neighbouring buildings and outdoor pay parking on the east side of Oak St. Metered street parking is available in front of the building on West Broadway, except during rush hours, and on Spruce St.
Public Transportation
The Broadway-City Hall Canada Line station is at the corner of West Broadway and Cambie St. The 99 B-Line bus runs along Broadway from the Commercial-Broadway Skytrain station to UBC and passes in front of the building.
There is a bike rack in front of the building.